Donate with honor, not to a sham charity             
Donate with honor, not to a sham charity             
Would you donate to a charity called Help the Vets? The appeal says your donation will help wounded and disabled military veterans.
What about in response to a robocall that asks you to donate your car to Veterans of America? Sounds like a charity, right?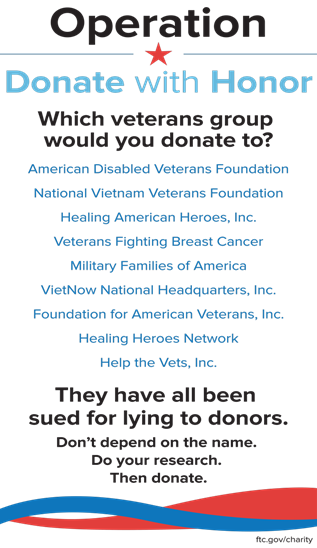 Unfortunately, donations to Help the Vets weren't spent helping disabled and wounded veterans. Very little was spent helping veterans in any way. And, allegedly, Veterans of America wasn't a charity at all – it was just a front used by an individual who sold donated cars and boats and kept the money for himself.
Today, Secretary of State Kim Wyman joined the FTC and state partners throughout America in announcing Operation Donate with Honor, a nationwide law enforcement and education initiative to stop veterans-related charity fraud – including Help the Vets and Veterans of America.
Charity regulators from 70 offices, including every state, DC, Guam, American Samoa and Puerto Rico, joined the FTC in this initiative. More than 90 law enforcement actions targeting veterans-related charities and fundraisers were announced. This unprecedented joint effort signals that charity scammers who prey on Americans' patriotism and generosity should beware, law enforcement is watching – and taking action.
But donors need to beware too. Make sure your donation dollars count.
Do some research before you donate
Watch out for names that sound alike
Ask questions to find out where your donations go
For more tips on wise giving and how to research charities, visit sos.wa.gov/charities or go to FTC.gov/Charity.
There are many great charities serving veterans in need that rely on individual contributions. You don't want to donate to a fake charity; you want your donations to count. Watch the videos below for tips on how to do some research and avoid giving money to a charity scam.
Click here for the Spanish language version of this video (en Español).